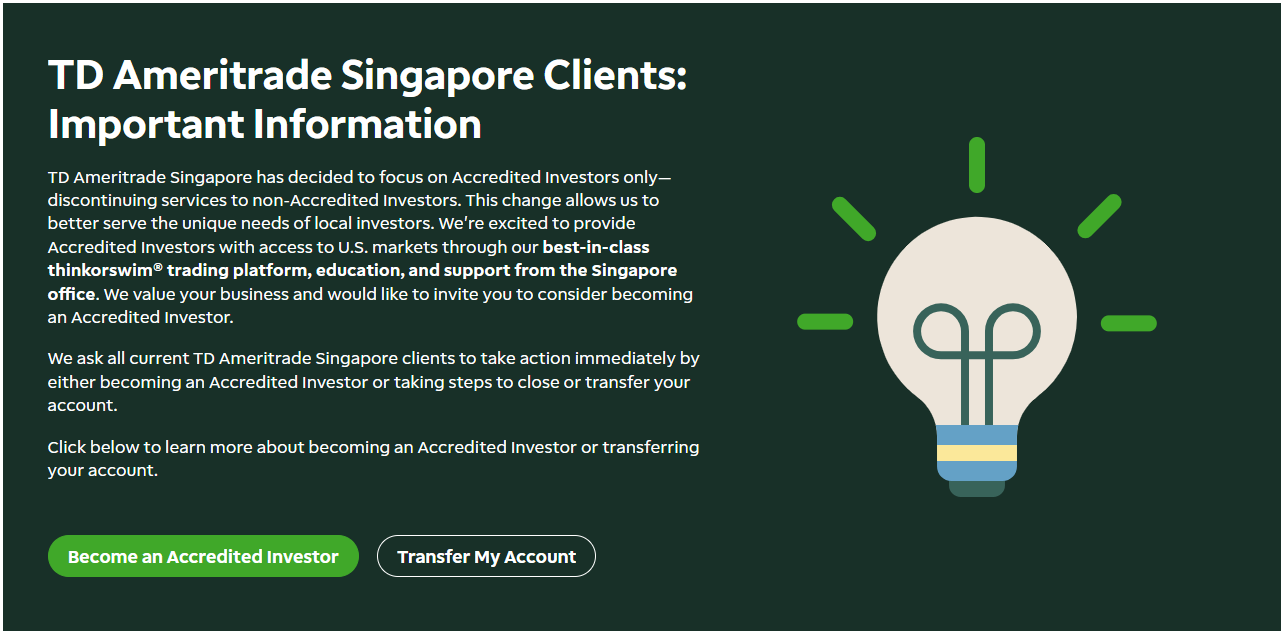 If you're a Singaporean investor, you might be aware of online brokerage TD Ameritrade's recent announcement that they will no longer be serving retail investors in Singapore after December 2023. This change has left many of us wondering about the future of our investments and options trading. But fret not, as we'll explore the details of TD Ameritrade's transition towards serving accredited investors and guide you on some other brokerages that continue to serve retail investors in Singapore.
Table of Contents
Understanding TD Ameritrade's Accredited Investor Transition
Why is TD Ameritrade Making this Move?
TD Ameritrade's decision to stop serving retail investors in Singapore comes as a result of several factors. Firstly, regulatory changes have made it increasingly complex for foreign brokerages to serve retail investors in Singapore. Secondly, TD Ameritrade is refocusing its efforts on its core markets in the United States.
The move will allow it to "better serve the unique needs of local investors", said the company on Tuesday (Sep 26).
The Impact on Investors
The impact of this decision is significant, especially for those who have grown accustomed to TD Ameritrade's popular thinkorswim trading platform. This platform, known for its user-friendly interface and robust features, has been a go-to choice for many Singaporean retail investors. As someone who has dabbled in options trading Singapore, I can attest to the platform's strengths. It has made options trading more accessible, even for beginners.
Thanks to TD Ameritrade's zero commission trading since 2020, investors have enjoyed low commissions and cost-effective options trading in Singapore like never before. The transition to accredited investors means that switching to another platform might come with low commissions and a higher cost for options trading strategies.
Options for TD Ameritrade Clients Post-Transition
Two Primary Options
Existing TD Ameritrade clients in Singapore have two primary options post-transition:
1. Register as an Accredited Investor with TD Ameritrade
Becoming an accredited investor in Singapore involves meeting specific financial criteria. This includes having a certain minimum income or net asset level. While this may be an option for some, it could be challenging for smaller options traders who don't meet these criteria.
2. Transfer Assets to Another Broker
The second option is to withdraw all your assets and cash balances from TD Ameritrade and transfer them to another online brokerage platform. This may seem like a daunting task, but it opens the door to exploring alternatives like Tiger Brokers Singapore. One outstanding feature of Tiger Brokers Singapore is its commitment to offering cost-effective options trading options, and it has recently launched a promotion introducing an 80% reduction in options contract fees (from US$2.99 to US$0.65 per contract), making it an attractive choice for traders.
Criteria for Accredited Investors
To become an accredited investor in Singapore, you typically need to meet one or more of the following criteria:
Have a net personal assets exceeding SGD 2 million
Have an income of at least SGD 300,000 annually
Have a net financial assets exceeding SGD 1 million
Meeting these criteria may not be feasible for many retail investors.
My Personal Take on TD Ameritrade's Announcement
My Perspective
While I haven't personally used TD Ameritrade's platform for options trading, I can't help but empathise with the concerns of those who have. The news of TD Ameritrade's exit from Singapore has sent shockwaves through the investment community, and it's only natural to feel uncertain about the impact it might have.
However, I firmly believe that in every challenge lies an opportunity. This abrupt change in the landscape of online brokerage services in Singapore could be a chance to explore new avenues and discover platforms that might offer even better options trading strategies. This is where alternatives like Tiger Brokers Singapore come into play.
Plans Regarding TD Ameritrade Account
Given the circumstances, I would highly recommend retail investors to transfer your assets to another platform, or sell your holdings and deposit the proceeds into your bank account.
It's important to note that if you haven't taken either of these steps by October 27th, your account will incur a monthly maintenance fee of US$50. Additionally, access to your account will be restricted after the close of US markets on December 1st. This means you won't be able to place new trade orders unless it's for liquidating positions or closing existing trades.
While the decision may seem significant and potentially disruptive, it also opens doors to new tools, opportunities, and potentially more cost-effective options trading.
Personally, change can be intimidating, especially when it involves financial investments. However, I feel that it's often in times of change that we discover innovations and platforms that can significantly enhance our trading journeys.
Lead Time and Considerations
One aspect that stands out in TD Ameritrade's announcement is the lead time provided for this transition. Having until December 2023 to make informed decisions is indeed beneficial for investors as it allows us necessary and sufficient time to evaluate our options, conduct research, and plan our transition carefully.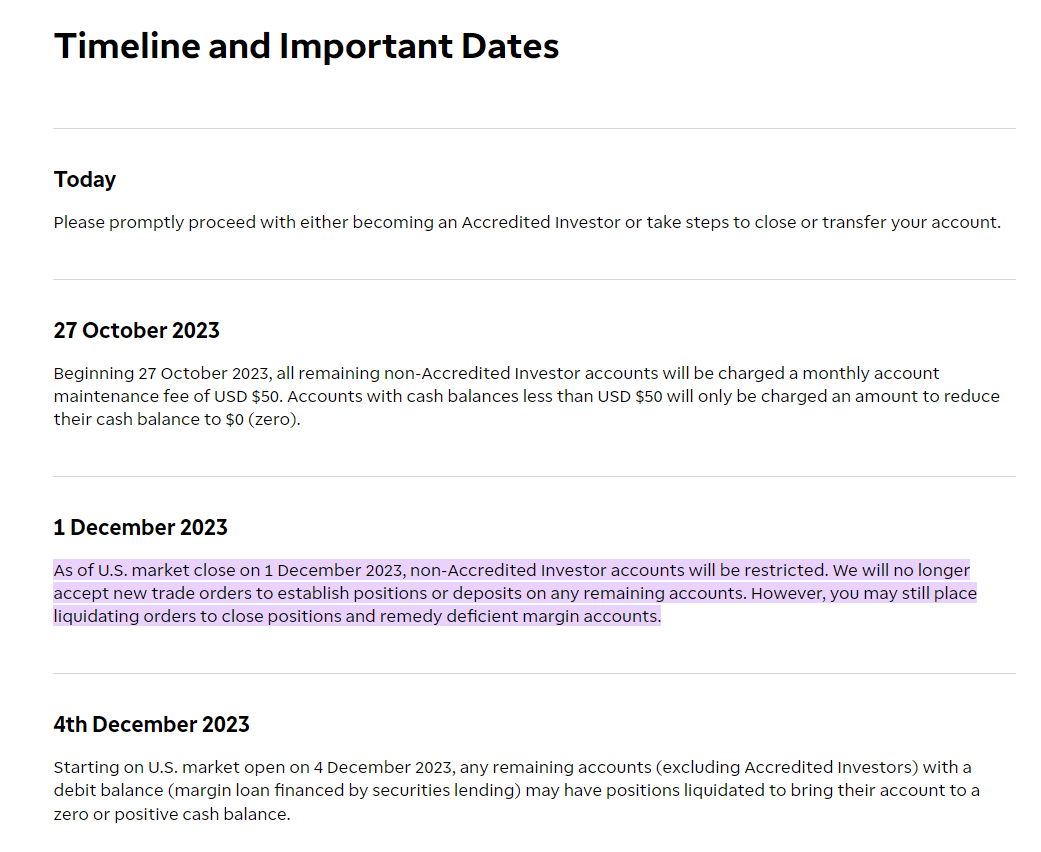 I feel that businesses can consider offering more guidance and support when announcing such significant transitions. This approach could help ease the process for their clients, especially those who may not be familiar with the intricacies of transferring assets or adapting to a new trading platform.
Impact on Smaller Options Traders
I can't help but think about the smaller options traders who were using TD Ameritrade's platform to learn and grow. The transition to accredited investor status, with its stringent financial criteria, can be challenging and intimidating.
These traders might find themselves at a crossroads, desperately seeking a new platform that caters to their needs and level of expertise. It's crucial for them to find a brokerage that not only welcomes them, but also provides the tools and resources necessary for their continued growth as traders.
All in all, while I may not have firsthand experience with TD Ameritrade's platform, I recognise the significance of this transition and its potential impact on investors. It's a reminder that being adaptable and having a curious nature to explore are crucial in the ever-evolving world of online trading. Just as your friends would advise "there are other fishes in the sea", there are many other platforms out there that you've yet to explore that may just suit your needs much better. Considering all the options out there, I've found Tiger Brokers Singapore to be the refreshing change many of us need in this evolving landscape, especially with its newly introduced promotion – reducing the options contract fee to just USD$0.65.
Transitioning to Tiger Brokers Singapore
Introducing Tiger Brokers Singapore (TBSG)
Amidst the changes at TD Ameritrade, Tiger Brokers Singapore has emerged as an attractive alternative for investors. With its intuitive platform and advanced features, Tiger Brokers offers a refreshing perspective on online brokerage. 
Notably, the company received the Fintech – Financial Services Award at the 2023 SBR Technology Excellence Awards, showcasing their commitment to exceptional services and elevating the investing experience.
Recognized for exemplary customer service in the Singapore Best Customer Service Survey 2023/24, Tiger Brokers solidifies its position in the trading and brokerage sector. Moreover, the "Best Retail Broker" Award at the SIAS Investors' Choice Awards 2023 emphasizes their dedication to serving retail investors and maintaining strong corporate governance practices.
This award highlights Tiger Brokers (Singapore)'s prowess in customer service, investor education, and platform enhancement. It also underscores their commitment to transparent operations through robust risk management and compliance checks.
My Personal Experience with Tiger Brokers
I've had the opportunity to explore options trading on Tiger Brokers ever since they first emerged in Singapore, and I must say it's been a pleasant experience. The platform is user-friendly; making it accessible for both beginners and experienced traders and does not require any minimum deposit.
Cost-Effective Trading Options
One feature of Tiger Brokers that stands out, especially for someone like me who mainly trades options selling puts and covered calls, sometimes requiring me to roll the contracts, is its commitment to offering cost-effective trading options.
They've slashed options contract fees by a whopping 80%, making it more affordable for traders to engage in options trading. This significant reduction in fees can make a substantial difference, especially when actively managing options positions where low commissions play a crucial role in profitability.
Advanced Options Trading Functionality
For those who were accustomed to the advanced features of TD Ameritrade's thinkorswim, Tiger Brokers provides a comparable experience. You can execute complex trading strategies with ease and access a range of tools to enhance your trading decisions.
For the advanced option traders, you will be pleased to find out that Tiger currently offers nine option strategies such as covered calls, cash secured puts, calendar spread and many more.
Support for Transitioning TD Ameritrade Clients
Tiger Brokers Singapore understands the challenges faced by TD Ameritrade clients in Singapore and have put in place dedicated support and resources to help clients transition seamlessly. Whether it's assistance with transferring your assets or understanding and using the platform, Tiger Brokers is there to guide you.
To smoothly transfer your positions from TD Ameritrade to Tiger Brokers, you can follow the instructions found in Tiger Brokers Singapore's comprehensive guide here.
Empowering Millennials and Gen Z Investors
Tiger Brokers focuses on empowering younger generations of investors with digital convenience. Their mobile app, Tiger Trade, is designed to cater to the needs of millennial and Gen Z investors who prefer a mobile-first approach.
Exemplary Customer Service and Financial Literacy
It is also nice to see that Tiger Brokers places a strong emphasis on customer service and financial literacy. They offer resources and support such as their easily accessible online lessons, to help investors make informed decisions and navigate the world of finance. Tiger Trade also offers a demo account to allow rookie traders to practise and test their strategies!
Navigating the TD Ameritrade Transition: Tiger Brokers – Low Commissions / Trading Fees
In the ever-evolving landscape of online trading, change is the only constant. The announcement of TD Ameritrade's decision to cease serving retail investors in Singapore has left many of us pondering the next step for our investments and trading ventures. However, this transformation presents an opportunity to explore new horizons and discover platforms that may enhance our trading journeys even further.
For investors seeking new online brokerages and low commission trading, Tiger Brokers Singapore stands out as a compelling alternative. Whether you are an avid user of thinkorswim or a smaller options trader looking to learn, Tiger Brokers has the tools, resources, and cost-effective options to support your trading journey.
Being an options trader who specializes in selling puts and covered calls, I know the importance of managing positions effectively. When I roll options, it involves closing one contract and opening a new one, which typically means dealing with two contract fees. This is where Tiger Brokers truly shines. They've not only slashed the options contract fees from the previous US$2.99 to an incredibly low US$0.65 per contract but have also made it remarkably easy for traders like me to navigate the world of options without the burden of excessive fees.
I encourage you to explore the opportunities that Tiger Brokers Singapore has to offer. You can start by downloading the Tiger Trade app on desktop (macOS or Windows) or mobile (iOS or Android) and experience their platform firsthand. The world of investing is ever-evolving, and it's essential to adapt and explore new possibilities to stay ahead.
Disclaimer: This post is sponsored by Tiger Brokers. Please note that the information provided in this article is for informational purposes only and should not be considered as financial advice. Before making any investment decisions, we strongly recommend that you conduct your own due diligence and consult with a qualified financial advisor.
Frequently Asked Questions (FAQ)
How can I transfer my stock portfolio from TD Ameritrade to Tiger Brokers Singapore?
To transfer your stock holdings from TD Ameritrade to Tiger Brokers Singapore, follow these general steps: 1. Open an account with Tiger Brokers Singapore. 2. Initiate the transfer process by contacting both TD Ameritrade and Tiger Brokers Singapore to facilitate the transfer. 3. Complete the required paperwork and follow the instructions provided by both brokerages to ensure a smooth and secure transfer of your stock assets. To smoothly transfer your positions from TD Ameritrade to Tiger Brokers, you can follow the instructions found in Tiger Brokers Singapore's comprehensive guide here.
What is the alternative to TD Ameritrade in Singapore?
Tiger Brokers Singapore is an alternative brokerage that continues to serve retail investors in Singapore. Offering a user-friendly platform and cost-effective trading options, it has emerged as a popular choice for investors transitioning from TD Ameritrade.
Is TD Ameritrade shutting down in Singapore?
As of their announcement, TD Ameritrade is not shutting down completely in Singapore. However, the company is altering its services and will no longer cater to retail investors in the region after December 2023. TD Ameritrade plans to focus specifically on accredited investors in Singapore, aligning with certain financial criteria.
What is going to happen to TD Ameritrade?
TD Ameritrade is shifting its focus away from serving retail investors in Singapore and will pivot its services to concentrate on accredited investors in the country. This transition aims to align with specific financial criteria required for accreditation. The company's strategic move is intended to better serve the needs of local investors in Singapore while directing more attention to its core markets, particularly in the United States.