Credit cards have become an everyday essential, offering an array of benefits and perks. Among the multitude of options, the Citi Rewards Card shines as a versatile choice for those looking to maximize rewards across different spending categories. Let's delve into this card, exploring its features, rewards, and how it caters to varying spending habits.
Table of Contents
Key Takeaways:
Reward Potential: The Citi Rewards Card offers a lucrative rewards system, primarily 4 miles per dollar for online transactions, with the possibility of extension to offline purchases through Amaze.
Accessible Entry: With a S$30,000 annual income requirement and the option to secure the card with a S$10,000 fixed deposit, it's accessible to a broad audience.
Bonus Spending Categories: While the card emphasizes retail categories, the bonus structure applies to various merchant codes, excluding specific transactions like travel and in-app mobile wallet payments.
Strategic Usage: Maximizing benefits involves smart usage strategies, such as capping usage close to the $1,000 monthly limit to earn the highest rewards and switching to other cards thereafter.
Citi PayAll Advantage: Leveraging Citi PayAll during promotional periods significantly reduces the cost per mile, aiding in accumulating substantial points for larger expenses.
Transfer Partners and Points Value: The flexibility to convert ThankYou points to miles and the array of transfer partners add immense value to the earned rewards, allowing for various redemption options.
Considered Recommendation: While the card has limitations concerning travel and in-app mobile wallet transactions, it offers broad rewards opportunities and associated benefits, making it an attractive option for rewards-centric credit cards.
Understanding the Citi Rewards Card
The Citi Rewards Card, among the range of credit cards available from Citibank in Singapore, is officially presented as a rewards-earning credit card rather than a travel credit card. Despite its advertised classification, many within Singapore's travel and miles community affirm that it is unquestionably one of the top cards for accumulating miles in the country. This is due to the ease of transferring Citi Rewards Points earned from this card to airline partners at an extremely favorable rate.
Initially known for rewarding specific purchases, the card has expanded its scope significantly. Users now earn 4 mpd not only on diverse online transactions but also through the Amaze card extension, extending these benefits to offline transactions.
Why I Like the Citi Rewards Card
From my viewpoint, the Citi Rewards Card is an essential companion in the pursuit of accumulating air miles. Offering 4 mpd on most online transactions and potential extension to offline transactions via Amaze, this card is crucial for anyone passionate about collecting miles. This versatility in earning rewards sets it apart from many others.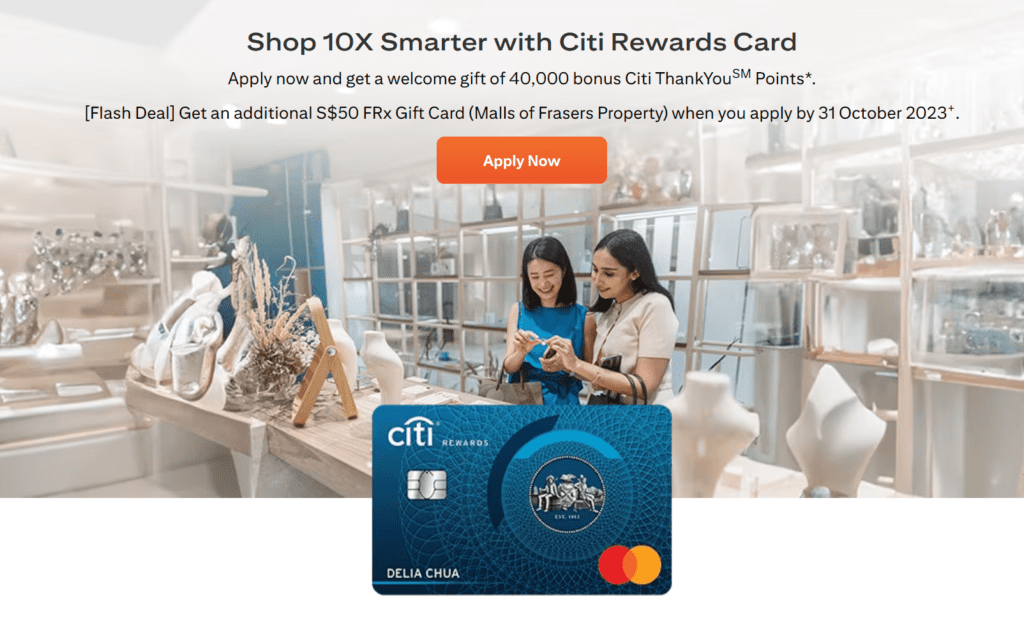 The absence of 4 mpd for travel or in-app mobile wallet transactions is a minor drawback, but it pales in comparison to its diverse transfer partners and the vast earning potential on online and offline transactions.
Exploring the Perks of the Citi Rewards Card
Understanding the unique features and benefits of the Citi Rewards Card is vital for making an informed decision about its compatibility with your lifestyle and spending habits. With an annual income requirement of S$30,000, the card is accessible to a broad audience. The annual fee of S$194.40 for the principal cardholder and S$97.20 for supplementary cards is waived for the first year, enhancing its initial appeal.
| Feature | Details |
| --- | --- |
| Annual Fee | S$194.40, Waived for 1 year |
| Income Requirement | S$30,000 for citizens & PRs, S$42,000 for foreigners |
| Key Features | |
| Annual Fee (First Year) | S$194.40 (waived) |
| Shopping Purchases | 4 miles (10X Rewards) per S$1 |
| Online Shopping | 4 miles (10X Rewards) per S$1 (incl. food delivery, online grocery & ride-hailing services) |
| Other Spending | 1X reward point for every S$1 spent |
| Minimum Spend | No minimum spend required |
| Rewards Points Conversion Rates | 4,400 points = S$10 cash rebate, 25,000 points = 10,000 miles |
| 10X Rewards Cap | Capped at 10,000 points per month |
| Exceptions for 10X Rewards | Excludes online travel purchases and non-fashion offline purchases |
Key Features of the Citi Rewards Card
The card offers an extensive array of transfer partners, including prominent names like Singapore Airlines, British Airways, and more, catering to diverse traveler preferences for redeeming points.
What Sets the Citi Rewards Credit Card Apart
The Citi Rewards Card is a shopaholic's best friend. It's a fantastic find for those passionate about fashion and hunting down deals online. What makes it a gem is the incredible 4 miles you earn for every S$1 you splurge on those fabulous fashion discoveries, whether you're shopping at your favorite local boutiques or exploring international fashion scenes. The exciting part? You get the same top-notch deal for almost all your online splurges (except for your travel bookings and mobile wallet transactions).
Comparing it to other cards is like finding a secret treasure. The DBS Woman's World Card, for example, rocks at rewarding your online shopping but doesn't quite hit the mark when it comes to your in-store fashion indulgences. That's where the Citi Rewards Card steps in, valuing both your online and fashion buys equally, showering you with fantastic miles for both passions.
Here's a comparison of their perks:
| Spend & Details | Citi Rewards | DBS Woman's World | OCBC Titanium |
| --- | --- | --- | --- |
| Online–General Spend | 4.0mi/S$1 | 4.0mi/S$1 | 0.4mi/S$1 * |
| Offline–Fashion Spend | 4.0mi/S$1 | 0.4mi/S$1 | 4.0mi/S$1 |
| Monthly Rewards Cap | 4,000mi | 8,000mi | 4,000mi |
| Fee-Waiver Option | N/A | YES | YES |
Breakdown of Citi Rewards to other cards
However, there's a catch with the Citi Rewards Card. For general spends, it only earns 0.4 miles per S$1, making it less rewarding for those not so frequent on the shopping scene. Plus, the monthly reward cap of 4,000 miles might put a cap on the fun for big spenders – that's just around S$40 in value.
Unveiling the Citi Rewards' Bonus Categories
The card's bonus spending categories extend beyond conventional retail zones. While initially focusing on specific shopping categories, the bonus rate covers various merchant category codes (MCCs), including department stores and multiple retail segments, online and offline. This is an advantageous feature for regular shoppers across these categories.
Citi Rewards Cardholders will earn 4 mpd on all SGD or FCY transactions made online or offline at merchants with the following MCCs:
| | |
| --- | --- |
| MCC | Description |
| MCC 5311 | Department Stores |
| MCC 5611 | Men's and Boy's Clothing and Accessories Stores |
| MCC 5621 | Women's Ready to Wear Stores |
| MCC 5631 | Women's Accessory and Specialty Stores |
| MCC 5641 | Children's and infant's Wear Stores |
| MCC 5651 | Family Clothing Stores |
| MCC 5655 | Sports and Riding Apparel Stores |
| MCC 5661 | Shoe Stores |
| MCC 5691 | Men's and Women's Clothing Stores |
| MCC 5699 | Misc. Apparel and Accessory Shops |
| MCC 5948 | Luggage and Leather Goods Stores |
Transactions at department stores, or shops selling bags, shoes and clothes
This includes merchants such as Takashimaya, Isetan, as well as fashion and apparel chains like Adidas and Nike.
It's essential to note that not all transactions fall under the 4 mpd reward structure. Travel transactions and in-app mobile wallet payments, such as air tickets and in-app payment methods, are excluded from this bonus. This distinction clarifies where users can maximize their points and where the points might not apply.
Comparing Citi Rewards Card's Advantage
While the bonus category might seem similar to other cards, the Citi Rewards Card operates on a blacklist system, differing from the whitelist system adopted by competitors. It rewards bonuses on most online transactions unless explicitly specified otherwise, such as travel or in-app mobile wallet transactions. This broad scope sets it apart from other cards in the market.
Pairing with Amaze Card and Bonus Extension
The Amaze Card is a notable addition to the Citi Rewards Card's arsenal, offering an innovative means to broaden the scope of reward accumulation. Linked to the Citi Rewards Card, the Amaze Card functions as a conduit for extending bonuses, specifically from online to offline transactions.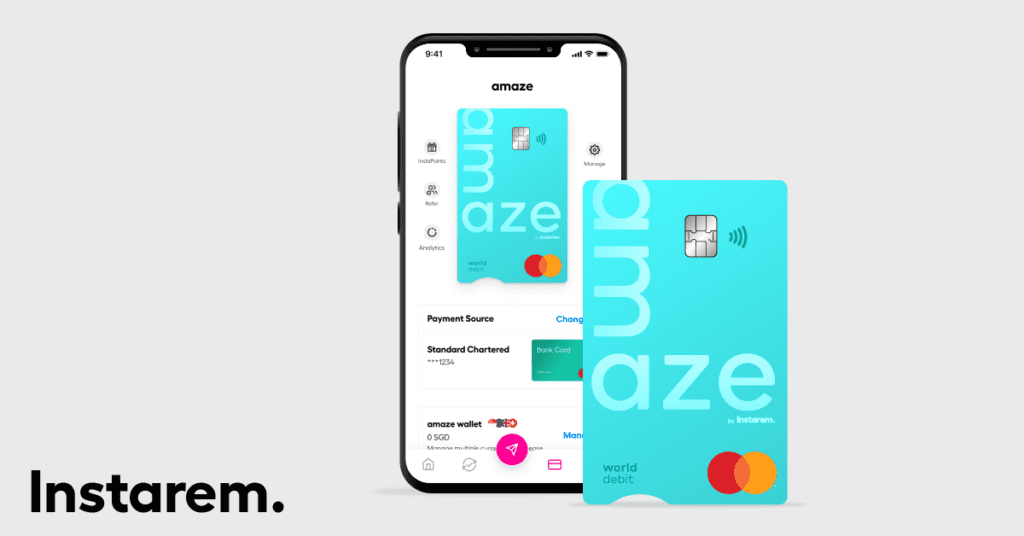 By pairing your Citi Rewards Card with the Amaze Card, all transactions made through the Amaze Card—whether online or offline—are categorized as online transactions for the Citi Rewards Card. This clever workaround allows users to capitalize on the impressive 4 mpd rewards on transactions that would typically not fall under the online transaction category.
Benefits and Functionalities
Essentially, the Amaze Card converts offline transactions into online ones for the underlying Citi Rewards Card, enabling you to garner 4 mpd even for in-store purchases, including dining at restaurants, shopping at brick-and-mortar establishments, and other face-to-face transactions.
It's important to consider that while the current offering is highly advantageous, there might be potential nerfs or restrictions in the future. At present, Citi is the only bank offering this pairing with Amaze, so let's make the most of the perks while they are still available.
Restrictions on Earning Bonuses
Travel Transactions: Unfortunately, the Citi Rewards Card doesn't apply the 4 mpd on transactions classified under specific travel-related merchant category codes (MCCs). Airline tickets, hotel stays, car rentals, and travel agency bookings, among others, fall under this category. Thus, when using the Citi Rewards Card for these transactions, you won't earn the 4 mpd bonus.
In-App Mobile Wallet Payments: Similarly, the card does not extend the 4 mpd bonus to in-app mobile wallet payments. Using the Citi Rewards Card in combination with digital wallet applications like Apple Pay or Google Pay for virtual transactions comes with the caveat of not receiving the enhanced 4 mpd rewards.
While these restrictions narrow down the scope for maximizing rewards, the Amaze Card remains a valuable means to significantly expand the opportunities for gaining bonus rewards on a wide array of offline transactions.
Navigating ThankYou Points and Transfer Flexibility
The reward system linked to ThankYou points is a compelling aspect of the Citi Rewards Card. These points convert to airline miles and have their own intricacies. They expire every five years from the card's approval or renewal date, plus a grace period of three months. Understanding this timeline is crucial for maximizing their utility.
Pooling points across multiple Citi cards isn't permitted. Points from different Citi cards remain separate, emphasizing the importance of transferring accumulated points before considering card cancellations to avoid losing them.
Regarding flexibility in transferring points, Citi Rewards Cardholders have a choice of 12 airline and hotel transfer partners. The conversion rate of 5:2 for points to miles and a minimum transfer block of 10,000 miles provide various partner program opportunities.
The Power of Citi PayAll
Citi PayAll stands out within Citibank's services, allowing cardholders to pay bills using their credit cards and earn reward points. While the regular earn rate for Citi Rewards Cardholders is 0.4 mpd due to a 2.2% service fee, Citi often runs promotions that elevate the earn rate significantly. The recent promotion of 2.2 mpd effectively reduces the cost per mile to 1 cent. However, the bonus 1.8 mpd may be delayed for 16 weeks after the promotion ends.
Capitalizing on these promotions means planning larger expenses to align with these periods, such as insurance payments or rent, becoming an effective way to accrue substantial points while covering necessary financial obligations.
For new Citi Rewards Cardholders, counting these payments toward the minimum spend for welcome offers and promotions boosts their points balance.
My Citi Rewards Card Strategy: Maximizing Rewards
As a proud owner of the Citi Rewards Card, I've developed a strategic approach that allows me to extract the maximum value from this versatile card. Over time, I've fine-tuned my usage to ensure I optimize its rewards while seamlessly integrating it into my daily life. After all, I believe that credit cards are meant to complement your lifestyle and not to lead it.
Targeted Spending Close to the Monthly Cap
One of the key elements of my strategy is focused spending. I aim to make the most of the generous 4 miles per dollar (mpd) rewards offered by the Citi Rewards Card. To achieve this, I concentrate on transactions that fall within this reward category. For me, this typically means directing my spending towards shopping and online purchases. Pairing it with the Amaze Card also automatically converts my payments at restaurants into online purchases which falls under the reward category.
Balancing My Spending
While I enjoy reaping the benefits of the Citi Rewards Card, I also maintain a balanced approach to my finances. I don't overspend or make unnecessary transactions solely to hit the monthly cap. It's crucial to ensure that my spending aligns with my budget and financial goals. Therefore, once I've reached the monthly cap in 4 mpd categories, I pivot my spending strategy.
Switching to My Primary Cashback Card
After reaching the monthly cap, I transition to using my primary cashback credit card for the remainder of the month which is the UOB One Credit Card. This diversified approach ensures that I can continue benefiting from cashback rewards on other types of transactions, such as groceries, dining, or utility bills.
In conclusion, my strategy for the Citi Rewards Card revolves around focused spending, balancing my card usage, and adapting to lifestyle changes while keeping an eye out for promotions and offers. By adhering to this approach, I'm able to make the most of this exceptional rewards card while optimizing its benefits and maximizing my earnings.
Exploring Additional Card Benefits
Apart from its primary earning potential, the Citi Rewards Card offers extra perks and facilities. Exclusive dining and travel privileges are not part of the card's offering, but its strength predominantly lies in its rewards system and associated benefits.
The extensive suite of transfer partners, the flexibility of Citi PayAll, and the structured approach to point accumulation make this card a powerful tool for savvy users.
My Final Thoughts: Redefining Rewards to Fit Your Lifestyle
The Citi Rewards Card isn't just another piece of plastic in my wallet; it's a gateway to a more rewarding shopping experience. I've found incredible value in its 4 miles per dollar on fashion buys and online transactions. Whether I'm treating myself to the latest fashion trends or just shopping online for daily essentials, this card ensures I earn rewards effortlessly.
The Amaze Card extension has added a whole new dimension to my card usage. It allows me to translate the same impressive online rates to my in-store purchases. Enjoying dining at local eateries or shopping in brick-and-mortar stores becomes equally rewarding, amplifying the joy of each purchase.
Balancing my focused spending with diversified rewards, this card keeps up with my lifestyle changes. It's adapted to my love for fashion and the convenience of online shopping, making it an ideal companion in this modern age.
Don't miss out on the opportunity to redefine how you earn rewards. The Citi Rewards Card isn't just a card; it's a true partner in making your shopping more rewarding. Enhance your shopping experiences, amplify your rewards, and tailor a more rewarding lifestyle today.